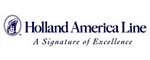 Holland America Line
With more than 137 years of experience, Holland America Line is recognized as the undisputed leader in the cruise industry's premium segment and the recipient of many awards and accolades. Holland America Line has maintained a tradition of excellence that includes exceptional onboard service, exquisite cuisine, spacious well-appointed staterooms and fabulous itineraries.
Holland
America's 15 ships sail to more than 320 ports of call on all seven continents, ranging from popular Caribbean and Alaska itineraries to exotic cruises to the far corners of the world. The first of our new Signature Class ships was unveiled in July 2008 with the introduction of the ms Eurodam, accommodating 2,104 guests and weighing 86,000 gross tons. The ms Nieuw Amsterdam arrived in July 2010.
Over the course of the company's long history, first as a cargo- and passenger-shipping carrier, and subsequently a leisure-cruise line, Holland America Line has carried more than millions of passengers from Europe to the New World and to vacation destinations across the globe.
Signature of Excellence Continues
Delivering a Premium Cruise Experience That Will Exceed Your Expectations
As part of our ongoing Signature of Excellence program, we continue to add enhancements and new features to our fleet of ships, including dramatic new public areas and stateroom upgrades, as well as expanding our enrichment program. Four ships, the ms Statendam, ms Ryndam, ms Veendam and ms Rotterdam now have new venues, staterooms, décor and more. A fifth ship, ms Maasdam, was completed in early 2011.
Under the latest series of enhancements, we are introducing new soft goods, new carpeting, completely renovated bathrooms, new Spa staterooms and, on Veendam and Rotterdam, the innovative Lanai stateroom. Lanai staterooms feature doors that open directly onto the walk-around lower promenade, while Spa staterooms located near the Greenhouse Spa offer exclusive amenities such as an organic cotton bathrobe and slippers, yoga mat, water fountain, special room service menus and treatments, and more. Additionally, on all ships, staterooms feature the Mariner Dream Bed with premium plush Euro-top mattress and high-quality cotton bed linens, flat-screen TVs and bathroom enhancements ranging from deluxe bathrobes to lighted, magnifying make-up mirrors. All suites include comfortable bed duvets, fully-stocked mini-bars, DVD players with access to an extensive DVD library, personalized stationery and use of the exclusive concierge-staffed Neptune Lounge.
Public area highlights include:
Mix, a new bar concept with three specialty lounges serving their namesakes: Martinis, Champagne and Spirits & Ales.

Showroom at Sea, a glamorous nightclub with performances featuring Broadway entertainers.

A new resort pool feature called The Retreat, complete with an upscale pizzeria and a giant LED screen for evening movies.

Canaletto, a complimentary Italian restaurant comes to life for dinner with gourmet Italian selections.



The exceptional onboard cruise experience delivered by Holland America Line and the Signature of Excellence enhancements appeal to discerning cruisers who prefer mid-sized ships, personalized service, five-star dining, and sophisticated ambiance throughout both public areas and staterooms. To date, Holland America Line has invested more than $566 million into Signature of Excellence.
We are proud to share some of the organizations and publications which have honored us with awards and accolades.
Portrait of Affluent Travelers™ survey; Yesawich, Pepperdine, Brown & Russell
Consistently Among the Highest-rated Cruise Lines
Condé Nast Traveler
Readers' Choice Awards
Travel + Leisure World's Best Awards
Highest-Rated Premium Cruise Line
Condé Nast Traveller
UK Readers' Travel Awards
International Five Star Diamond Award
The American Academy of Hospitality Sciences
High Deluxe Five-Star-Plus Rating
World Ocean & Cruise Liner Society
Best Overall Cruise Value (17 consecutive years)
World
Ocean
& Cruise Liner Society, Ocean & Cruise News
Best Alaska Itineraries, Best Northern Europe Itineraries, Best Central/South America Itineraries (including Panama Canal), Best Canada/New England Itineraries, Best Shore Excursions, Best Private Island (Half Moon Cay), Best Eco-Friendly Cruise Line, Best Medical Facilities and Best Overall Facilities for Physically Challenged Passengers
Porthole Cruise Magazine
Readers' Choice Awards
Best for Classic Cruising
Cruise Critic US Editors'
Picks Awards
Best for Aspiring Chefs – Culinary Arts Center Program
Cruise Critic UK Editors'
Picks Awards
Among the Best Cruise Ship Spas
SpaFinder Readers'
Choice Awards
Best
Private Island
in the Cruise Industry (seven consecutive years), Best Alternative Restaurant: Pinnacle Grill
Porthole Cruise Magazine
Editor-in-Chief Award
Kuoni Switzerland for outstanding environmental standards
Travel Weekly
, Readers' Choice Awards
Gold Medal: Best Premium Ship Restaurant Design: Pinnacle Grill
Gold Medal: Best Eco-Friendly "Green" Cruise Ship: ms Zuiderdam
Silver Medal: Best Premium Cruise Ship: ms Rotterdam
Travel Weekly,
Magellan Awards
TravelAge West Magazine,
WAVE Awards
Responsible Tourism Award
Marine Environmental Business of the Year, 2010
Best Cruise Operator - International, 2010
National Travel Industry Awards
LIFE ON BOARD
Children's Activities
With supervised fun for younger guests, the entire family can have the cruise vacation of their dreams.

Family Cruising
Holland America Line is dedicated to making your family's cruise vacation memorable and happy for each member of your family.

Wedding Cruises and Vow Renewals
Whether you prefer a simple ceremony and a small, elegant reception or lots of family and friends at a larger celebration, a wedding cruise on one of Holland America Line's elegant ships will launch a lifetime of memories.

Single Travelers Program
Each Holland America ship hosts a Solo Travelers party for singles to meet each other early during their cruise.

Laundry
For your convenience, Holland America Line offers full laundry and dry cleaning service.

Religious Services
In order to serve the spiritual needs of guests, Holland America Line offers Catholic, Interdemoninational and Jewish services.

Staterooms
Every stateroom is a gracious retreat.

Clothing and Dress Code
The right clothing can make a big difference in the enjoyment of your cruise.

Wheelchair Accessibility
Holland America Line is at the forefront of the cruise industry in providing facilities and services to guests with disabilities.

Casino and Gaming
Whether you are an experienced player, or just want to learn to play, the casino is a place to simply have fun.

Private Cabanas
Enjoy the outdoors in the comfort of your own private haven.

Service
On Holland America Line cruises, your every wish is our pleasure to fulfill.

Dining
As You Wish® dining on all cruises.

Activities
Each new day, a wealth of cruise activity and indulgences.

Entertainment
There is something for everyone on Holland America Line.
PROGRAMS



MY STORY
Cruising with Holland America
Fantastic, attentive, and personalized service. Comfortable cabins, smooth sailing ship. Excellent food choices and quality in main dining room and Lido restaurant, great and efficient room service. Excellent meals in Pinnacle Grill.

THE FLEET
Amsterdam
Eurodam
Maasdam
Nieuw Amsterdam
Noordam
Oosterdam
Prinsendam
Rotterdam
Ryndam
Statendam
Veendam
Volendam
Westerdam
Zaandam
Zuiderdam

DESTINATIONS
Africa
Alaska
Alaska Cruisetour
Antarctica
Arctic Circle
Asia / Far East
Australia
Australia/New Zealand
Bahamas
Baltic
Black Sea
British Isles
Canada
Canada/New England
Caribbean
Central America
Denmark
Eastern Caribbean
Egypt
Europe
Greece/Greek Isles
Hawaii
Holy Land
Iceland
India
Italy
Mediterranean
Mexico
Middle East
New England
New Zealand
Norway
Pacific Coastal
Pacific Northwest
Panama Canal
Russia
Scandinavia
South America
South Pacific
Southern Caribbean
Spain
Tahiti
Trans-Atlantic
Trans-Pacific
Turkey
Western Caribbean
World Cruise (Full & Segments)