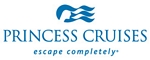 Princess Cruises®
One of the best-known names in cruising, Princess Cruises first set sail in 1965 with a single ship cruising to Mexico. Today, the line has grown to become the third largest cruise line in the world, renowned for innovative ships, an array of onboard options, and an environment of exceptional customer service. A recognized leader in worldwide cruising, Princess has been awarded "Best Cruise Line Itineraries" by Recommend magazine for eight consecutive years and "Best Cruise Line in Alaska" by the readers of Travel Weekly magazine. Princess offers approximately 1.3 million passengers the opportunity to escape completely to the world's most intriguing destinations including Europe, Australia & New Zealand, Alaska, Asia, India, Africa, Hawaii, Tahiti and the South Pacific, the Caribbean, the Panama Canal, Canada & New England and South America.
5 Great Reasons to Sail with Princess Cruises
Warm, welcoming service.
Our goal as The Consummate Host® is to make you feel content and comfortable starting the minute you set foot onboard.
The best itineraries.
Cruise with us and you can be sure to experience the best of each region you visit, no matter which of our over 100 itineraries to more than 300 ports you choose.
Exclusive amenities.
Enjoy watching Movies Under the Stars®, and street performer-style entertainment in the Piazza. Or spend a few hours in The Sanctuary — a retreat just for adults.
Delicious, fresh food.
Every sauce is made from scratch, breads and pastries are baked fresh throughout the day, and our chefs use local products to create dishes inspired by the region you're visiting.
The experts love us.
We're continually being honored by the industry for our carefully planned itineraries, our spectacular ships, and the way we make everyone, of every age, feel relaxed and happy when they're with us.
LIFE ON BOARD
Traditional and Anytime Dining
A sumptuous variety of dining option awaits you on every voyage. Princess offers you the choice of Traditional Dining with fixed time and seating, or Anytime Dining with the flexibility to dine when and with whom you choose.

Specialty Dining
Variety is the spice of life, especially when it comes to dining. That's why Princess offers several Specialty dining options for you to choose from on every ship, perfect for special occasions.

Casual Dining
Enjoy delicious entrees, salads, sides and desserts in the Horizon Court, or step out by the pool on deck and order a slice of hand-tossed Naples-style pizza, cheeseburgers, hot dogs, or perhaps bratwurst.

Onboard Activities
Princess offers everything you could need for a relaxed, rejuvenating retreat with innovative experiences all designed to help you escape completely.

Nightlife
The night is yours to have fun. Spend the evening, watch an award-winning movie or catch a live theater production. Whatever you choose, you'll have an endless array of ways to escape completely.

Accommodations
For every preference and budget, there is a stateroom to match on each Princess ship, ranging from spacious suites to comfortable interiors.
PROGRAMS
Special Occasions
Princess makes your birthday, wedding, honeymoon, anniversary or renewal of vows even more memorable. When you're onboard a cruise with Princess, you're surrounded by warm, caring people dedicated to making each day a celebration. And for those times in your life that are special, Princess has created a collection of memorable celebration experiences to help you savor those moments for years and years to come.

Princess Luggage Valet
Begin your vacation with Princess Luggage Valet service. It's the ultimate in convenience – your luggage delivered from your home or office to your stateroom. Your luggage can be also be shipped home to you at the end of your vacation. It's a great way to make the beginning and conclusion of your luxurious journey even more carefree.

Princess Vacation Protection
You never know what might put your vacation investment at risk. Princess Vacation Protection can reimburse you for unforeseeable losses stemming from an array of circumstances, and even allows you to cancel your vacation for any reason at all.

Princess Captain's Circle
The Princess Captain's Circle® is one of the richest loyalty programs at sea. Rewards range from special member savings to onboard events and complimentary services – and the more you sail with us, the more benefits you accrue. You're automatically enrolled after your first cruise!



THE FLEET
Caribbean Princess®
Coral Princess®
Crown Princess®
Dawn Princess®
Diamond Princess®
Emerald Princess®
Golden Princess®
Grand Princess®
Island Princess®
Ocean Princess®
Pacific Princess®
Regal Princess®
Royal Princess®
Ruby Princess®
Sapphire Princess®
Sea Princess®
Star Princess®
Sun Princess®

DESTINATIONS
Africa
Alaska
Alaska Cruisetour
Arctic Circle
Asia / Far East
Asia Cruisetour
Australia
Australia Cruisetour
Australia/New Zealand
Bahamas
Baltic
Bermuda
Black Sea
British Isles
Canada
Canada/New England
Canada/New England Cruisetour
Caribbean
Central America
Denmark
Eastern Caribbean
Europe
Europe Cruisetour
Flanders
France
Greece/Greek Isles
Hawaii
Iceland
Italy
Mediterranean
Mexico
Mexico (Baja)
Middle East
New England
New Zealand
Norway
Pacific Coastal
Pacific Northwest
Panama Canal
Repositioning
Russia
Scandinavia
South America
South Australia
South Pacific
Southern Caribbean
Spain
Tahiti
Trans-Atlantic
Trans-Pacific
Turkey
USA
Western Caribbean
World Cruise (Full & Segments)