Royal Caribbean International®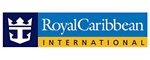 Royal Caribbean International, the cruise line that delivers the "Wow!" and the one that put a surfing simulator, rock-climbing walls, ice-skating rinks and other innovative amenities on cruise ships. Whether you've sailed with Royal Caribbean before or have just seen the commercials on TV, you may have the sense that Royal Caribbean is not your average cruise line.
With more than 170 destinations worldwide and an amazing array of exciting shore excursions and cruisetour options, Royal is reaching out to vacationers eager to try something new - whether it's glacier-trekking in Alaska, cave-tubing in Belize or biking through the vineyards of Dubrovnik, Croatia.
As the "Get Out There" cruise vacation alternative, Royal Caribbean ships offer itineraries, activities and amenities designed to appeal to every taste, energy level and age group giving our guests the opportunity to create their own adventure. The guests seem to agree with the philosophy: Royal Caribbean's Crown & Anchor customer loyalty program recently enrolled its four millionth guest.
The ships, destinations and amenities aren't the only reasons why Royal Caribbean is a great cruise line.